What's next for Fair Grounds Field?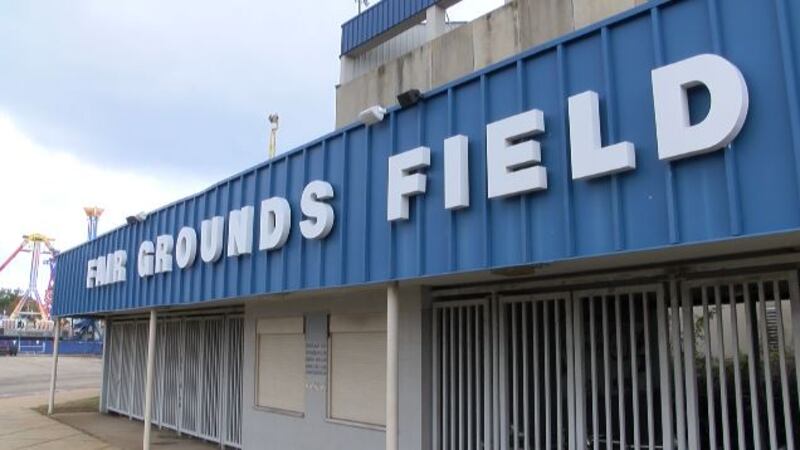 Updated: Feb. 8, 2019 at 6:55 AM CST
SHREVEPORT, LA (KSLA) -2011 was the end of the Shreveport-Bossier Captains, a minor league baseball team in the city. It was also the start of Fair Grounds Field slowly falling apart, but now years later a group is looking to bring life back to this field.
Shayne Sharkey created the Facebook group 'Play Ball Shreveport,' whose dream is to get the stadium back up and running.
His push came in March of 2018 after he drove pass the stadium and became upset knowing thousands of people coming to the Miss USA pageant would have to see this deteriorating field during their visit.
Since then he has partnered up with people from around the community to work on this project and his goal is to turn the stadium into a multi-purpose facility for kids of all ages to use.
"So we want to convert it for youth, high school and college, but we're going to be able to turf the field and use it for both baseball, softball, soccer and other sports that can be played on those fields," says Sharkey.
The facility would be open year-round and also give children struggling at home a chance to play baseball.
"We want to be able to use baseball to reach kids that are at risk," said Sharkey. " Those who maybe go home and either there's no parents there, both parents are working or kids that have gone home to families that are struggling with drug and alcohol abuse. We want to be able to tell them that there are people that care."
The field is still owned by the city, so Sharkey plans to approach the city council at the end of the month with a proposal. He wants the city to approve a long-term lease and turn over the restoration to the group so they can fix things.
The leader has plans to pay for the restoration with private and grant money.
He also hopes that by restoring the field, it will be a catalyst for others wanting to restore buildings throughout the city.
"This isn't Shreveport," Sharkey says. "Shreveport's loaded with a lot of awesome people and we don't want this to be the impression that people see when they're driving down the interstate or flying into the airport."
Sharkey has also started a petition for the stadium that has over 2,000 signatures. His goal is to get 4,200 signatures because that's how many seats are in the stadium. If you are interested in signing the petition, click HERE.
Copyright 2019 KSLA. All rights reserved.