Business' logo at high school football field causes controversy, legal action
Students were asked to cover up the logo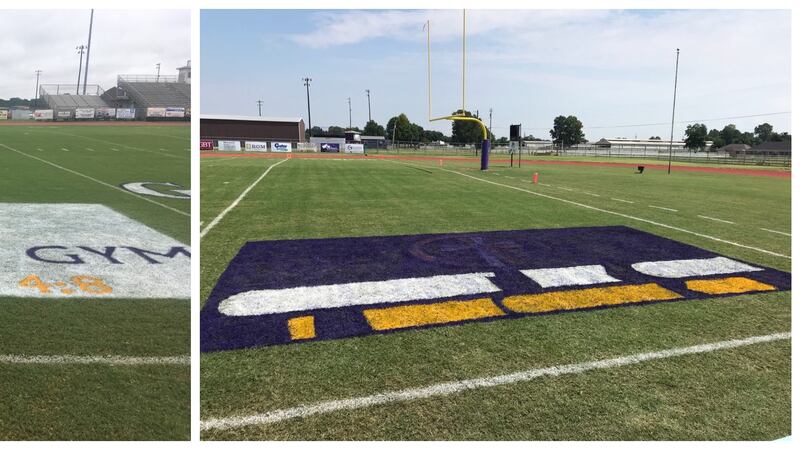 Updated: Sep. 7, 2018 at 5:13 PM CDT
BENTON, LA (KSLA) - A Bossier Parish gym has filed a restraining order after a high school attempted to break contract and remove a faith-based business logo because it says "Christ".
According to the paperwork filed, Christ Fit Gym, a Christian based non-profit gym in Bossier City, taken legal action against Benton Football Booster Club after they allegedly instructed students to paint over the gym's logo they paid for at Benton High School's football stadium.
"If I stand down, where does it stop," said Billy Weatherall, owner of Christ Fit Gym. "Where does it literally stop at?"
The logo was placed in the field's end-zone for the 2018-2019 football season. According to the temporary injunction, the gym paid $3,500 to have it on the field.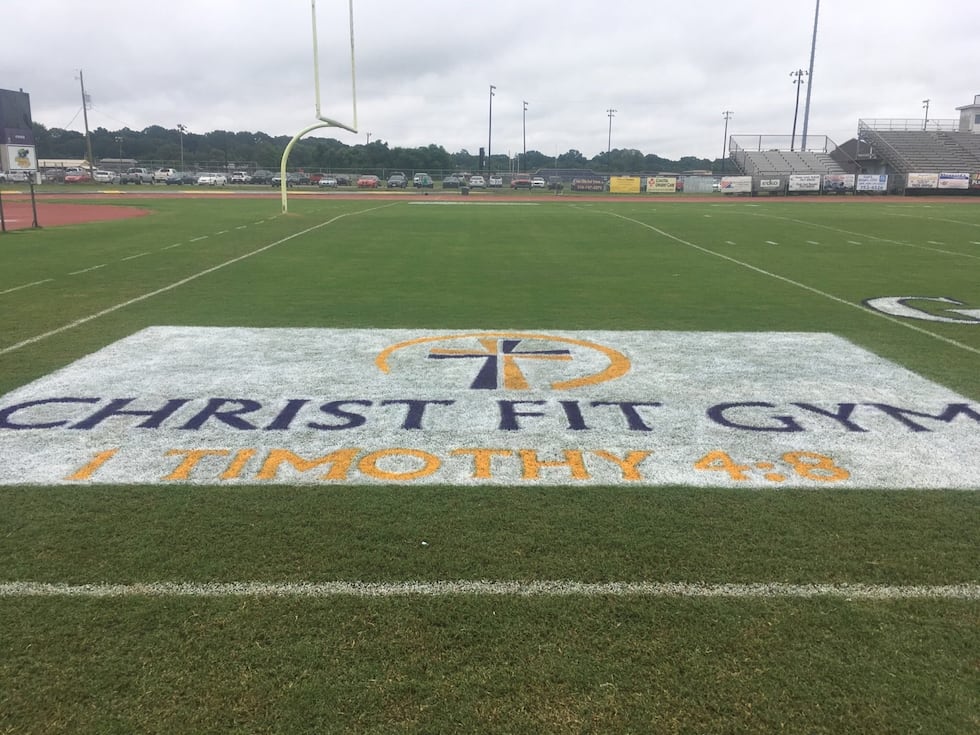 However, on Friday morning before the game, Christ Fit Gym was told that the sign would be covered and later removed because it contained the word "Christ."
Weatherall says he was caught off guard by this morning's phone call from the Booster Club.
He says he's "baffled" since the stadium has numerous other sponsorship signs representing various churches around the region.
According to a Facebook post, a group of students were instructed to cover it up, but refused:
"It's a battle over the mind of a child," said Christ Fit Gym's Lawyer Ryan Gatti, after being told students were pulled from classes this morning and asked to spray paint over the Christ Fit Gym logos in both end zones at Benton High School's football field.
"Just let that sink in. They were told to spray paint over the name of Christ," Gatti added.
The temporary restraining order filed by Christ Fit Gym has ordered anyone from removing the sign from the gym for any purpose, including during football games.
The restraining order was signed off on Friday morning.
Below is a statement from Bossier Schools legal counsel, Jon K. Guice:
The Benton Football Booster Club recently sold advertising space on the Benton High School football field to a local business.
The logo of the business included a Cross and Bible verse and was painted on the football field yesterday. A challenge to the logo was received from counsel for the plaintiffs in a pending federal lawsuit alleging improper endorsement of religion in the schools.
The School Board's legal counsel advised the administration that the logo should be removed pending consultation with the Court, as alleged violations had just been discussed with the Court.
The Bossier Parish School Board was unaware of the logo and has not met to discuss the issue.
We understand that a lawsuit has been filed in state court challenging the removal of the logo and that a temporary restraining order has been signed against the Benton Football Booster Club.
The Board is not a named as a defendant in the suit and has not had an opportunity to discuss the allegations.
Copyright 2018 KSLA. All rights reserved.